If you want to replace Windows OS with Android OS firmware for NEO Z64, you may follow these instructions.
Instructions:
1. Download the BIOS for Android OS here:
http://theminixforum.com:9009/bios/Z64-A-BIOS_V1.53.zip
2. Extract the contents(
fparts.txt
,
fpt.efi
,
fpt64.efi
,
JDRDA132.BIN
)of the downloaded .zip file to the root directory of the USB stick.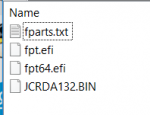 3. Attach a power adapter and a conventional wired keyboard to the NEO Z64, and also connect a TV screen to it.
Insert the USB stick(mentioned above) to NEO Z64.
4. Power on the NEO Z64 by pressing the power button, and press
F11
key on the keyboard, and choose "
UEFI: Built-in EFI Shell
".
5. Type command on the Shell:
fs3:
6. Run the following command to update the BIOS. (

See attached picture

Update_BIOS.png)
fpt.efi /F JCRDA132.BIN
7. Just wait until it finished, then you can install Android OS firmware that is built for NEO Z64-A to the NEO Z64-W.
Instructions for installing the Android OS on NEO Z64 can be found here:
https://theminixforum.com/index.php?threads/neo-z64-a-instruction-for-installing-the-firmware.280/