Using Kodi 18.4 a popup message was displayed saying a new controller had been found and would I like to configure it.
I got this popup as a result of trying to use my remote that came with my U1, I am assuming my remate is the A1 as it's the small remote 6 function buttons, 4 directional buttons and an 'OK' button.
When asked if I wanted to configure the new controller (I have no idea why the popup occured never happened before) I selected no.
The result is that the directional and 'OK' buttons no longer work, when pressed noting happens.
How do I relink my A1 remote to my U1 so the directional keys and 'OK' key work?
This is the popup that displays as soon as I press a button on my A1 remote:-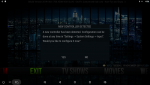 The directional and 'OK' buttons are all working in Kodi 17.6 and on the U1 home page and other Apps
Last edited: